The Code
[testimonial auto_play=""]
[testimonial_item title="" name="" position="" company="" avatar=""]Content here[/testimonial_item] [testimonial_item title="" name="" position="" company="" avatar=""]Content here[/testimonial_item]
[/testimonial]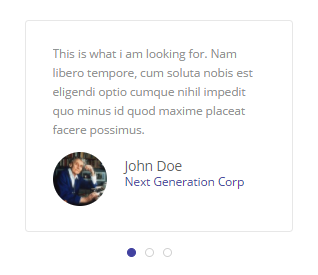 Description
[testimonial]
auto_play – Select auto next testimonial item
name – Enter name

title – Enter title
position – Enter position
company – Enter company
avatar – Enter ID of the image.
Tip: Where do you can find ID of the images? Go to Media > Library, click on an image and see the Address bar.